COUNCILLORS' HANDBOOK 2020
IMPORTANT NOTICE
Following advice from third party authorities, the JPC will be adopting a raft of revised and updated policy documents, presented as free-standing publications which will be easy to access and download. It is planned that the presentation and adoption of these protocols will take place at the JPC Annual Meeting, on the 4th of May 2021. They will be placed on this website adjacent to the meeting agenda and referenced during the meeting, along with any comments raised in the public forum prior to the commencement of the meeting. The JPC Handbook, which served as a bridging document during the pandemic, will remain in force until such time as all of the updated protocols have been adopted by full council. If you have any queries regarding these changes please contact the Clerk at
clerk@henley-in-arden-pc.gov.uk 
Clerk & Proper Officer – 19th April 2021
If you have visited this site before you will have seen a list of publications covering every aspect of Council procedures and protocols, each was subject to separate updates and revisions, as is required to meet best practice. The JPC has now consolidated all of these documents into ONE SINGLE publication known as
THE COUNCILLORS HANDBOOK 2020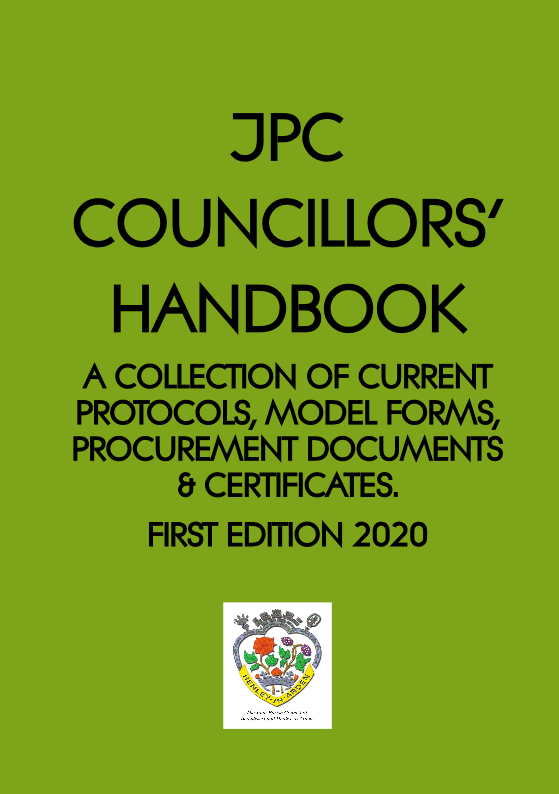 This new publication is available for download [below pdf file download] and in hardcopy format by applying to the Clerk. The HANDBOOK will be reviewed every 12 months and if required,  re-printed and issued as the next edition. It is informative and we invite residents to learn more about how the JPC manage and invest their money as well as provide better service for the good of all in the community.
clerk@henley-in-arden-pc.gov.uk
Parish Clerk & Proper Officer 24.10.2020
EMERGENCY HANDBOOK 2020
The JPC has learnt just how frightening it can be for vulnerable residents in times of crisis such as the Covid outbreak. Emergency plans were put in place to help those shielding or in lock-down, bu delivering prescriptions and newspapers and, where appropriate, deliveries of groceries and other items. Of course, there are other problems we face apart from pandemics, more mundane but nevertheless capable of creating anxiety so, this new JPC publication sets out to provide contact details with a whole host of services, the most important being the HELPLINE where you can reach a member of the Council in times of extreme threat. It's a new departure for the JPC and it may falter in the early days, but we will work hard to ensure that it becomes a first-class and reliable platform that reached the many in Henley that cannot access the internet.