ANNUAL GOVERNANCE & ACCOUNTABILITY RETURN [AGAR]
YEAR 2019-2020 
SECTIONS 1 & 2 RETURN 2019-2020
YEAR 2020-2021
Please find all pertinent documents for the 20-21 return in the following:
D3 – bank-reconciliation-proforma
D4-explanation-of-variances-proforma
D5 -reconciliation-between-Box-7-and-Box-8-proforma
D7 – provision-for-the-exercise-of-public-rights
Additional IA notes to Beaudesert
YEAR 2021-2022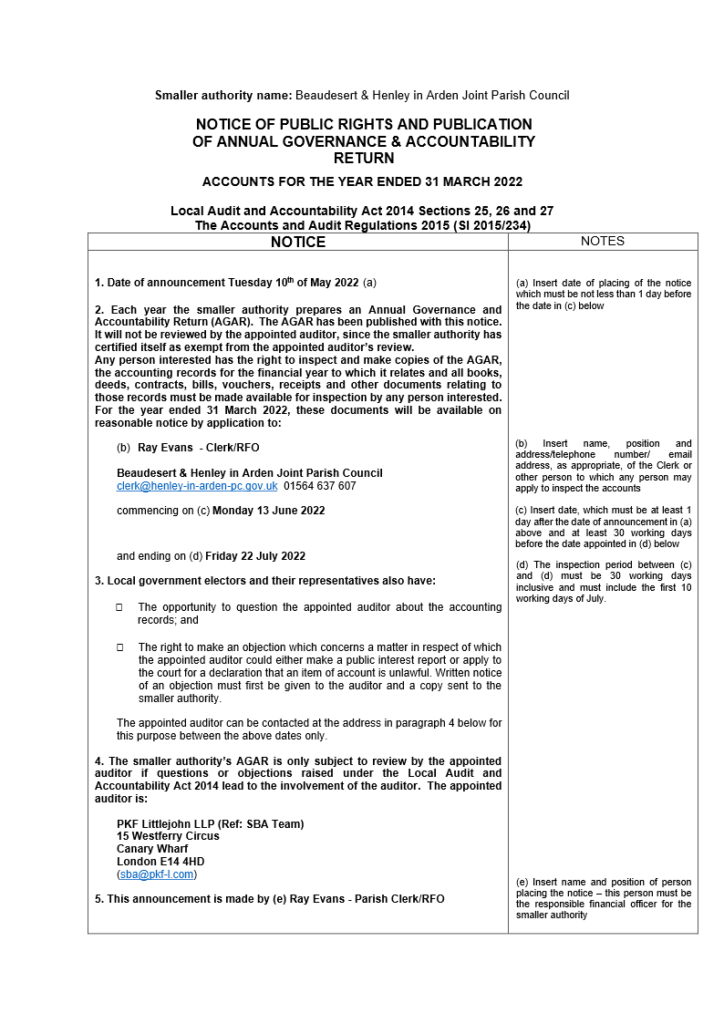 ANNUAL ACCOUNTING STATEMENT 2021-2022
ANNUAL GOVERNANCE STATEMENT 2021-2022
EXPLANATION ON VARIANCES STATEMENT_2021-2022
COVERING LETTER – PKF LITTLEJOHN MAY 22
INTERNAL AUDITORS REPORT 2021-2022
CLOSURE LETTER SEPTEMBER 2022_
PKF CERTIFICATE & INVOICE SEPTEMBER 2022
The JPC has completed and received closure of the 21/22 return. Their  opinions and guidance for 22/23 are:
Except for the matters reported below, on the basis of our review of Sections 1 and 2 of the Annual Governance and Accountability Return (AGAR),
in our opinion, the information in Sections 1 and 2 of the AGAR is in accordance with Proper Practices and no other matters have come to our
attention giving cause for concern that relevant legislation and regulatory requirements have not been met.
Section 1, Assertion 3 has been incorrectly completed. In the completion of the Annual Internal Audit Report, the internal auditor has drawn
attention to instances of non-compliance with laws and regulations in respect of Notices of meetings and payroll-related matters. Therefore, the
smaller authority should have responded 'No' to this assertion. We understand that both issues have been rectified since the year-end.
The AGAR was not accurately completed before submission for review. Please ensure that amendments are corrected in the prior year
comparatives when completing next year's AGAR:
 The figures in Section 2 Boxes 1 and 8 for the prior year are incorrect due to transcription errors and should read £61,923 and £67,716
respectively.
 Section 2, Box 4 for the current year incorrectly includes £187 of items that are not staff costs as defined in the Joint Panel on
Accountability and Governance Practitioners' Guide. Additionally, Box 6 for the current year includes £6,442 of staff-related costs
which should have been included in the Box 4 figure. The figures in Section 2, Boxes 4 and 6 for the current year should read £26,081
and £82,010 (respectively). Similarly, £1,514 of expenses have incorrectly been included in Box 6 in the prior year, therefore Box 6 in
the comparative column should read £110,608 and Box 4 should read £6,864
PKF fees for providing the external audit report 2021/2022 amounts to £400.00 plus VAT [standard charge] their invoice will be presented for payment at the JPC meeting on the 3rd of October 2022.
YEAR 2022-2023
On the 15th of May 2023, the newly elected JPC held their Annual General Meeting.
The matter of the Annual Governance & Accountability Return was considered, see Minute M13, a Governance Statement and, Minute M14. an Accounting Statement on this website. These were duly considered and approved by full Council. However, as the newly elected members may not be familiar with the detail of the return and why it is required, the Chair asked for a meeting with all members to highlight the major aspects of the return. As soon as the outcome of this meeting is clear, the return will be forwarded by post and emailed to the External Auditor in compliance with their instructions, see –
  1-2022-23-detailed-instructions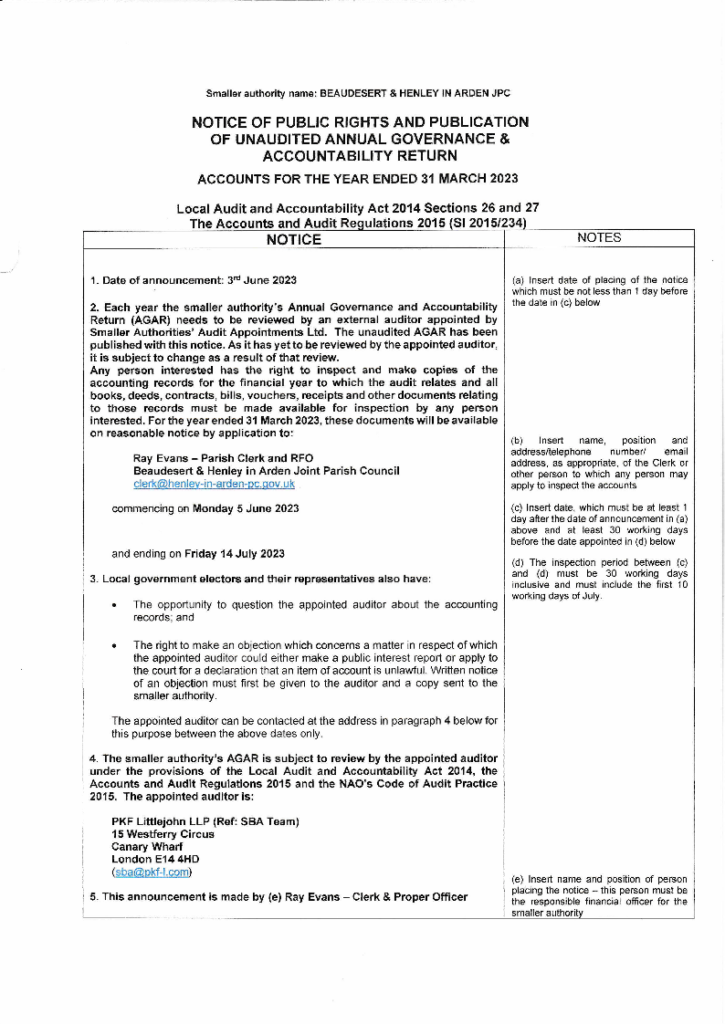 ANNUAL ACCOUNTING STATEMENT-AGAR_2022-23
ANNUAL ACCOUNTING STATEMENT-AGAR_2022-23 [V2]
ANNUAL-GOVERNANCE-STATEMENT-AGAR-22-23
ANNUAL INTERNAL AUDIT REPORT 2022-23
ANNUAL INTERNAL AUDIT REPORT 2022-23[V2]
20-Bank-reconciliation-proforma 22-23
21-Explanation-of-Variances-2022-23 (1)
22-Reconciliation-between-Box-7-and-Box-8-proforma
PERIOD FOR PUBLIC RIGHTS TO BE EXERCISED_2023
covering letter AGAR-littlejohn 03.05.2023
Section 3 – External Auditor Report and Certificate 2022- 23 INTERIM_1396090
AUDIT CLOSURE DOCUMENTS 2022-2023
Covering Letter to Clerk_1398699
Beaudesert & Henley in Arden Joint PC Signed EA 2023_1398709
SA-Notice-of-Conclusion-of-Audit-2023
Ray Evans
Parish Clerk/RFO to the Beaudesert & Henley in Arden JPC