Good Morning,
I work for the contractors bmJV carrying out the above scheme on behalf of Highways England. Please see an update below of the ongoing overnight survey works if you could share this through your communication channels please.
If there is someone else who would benefit from this information please have them contact me to be added to the distribution list. If you have any questions contact me by return and do let me know if you do not want to receive future updates.
In early May we'll start the final phase of our overnight survey work to gather information which will inform the design of this vital interchange upgrade scheme.
We'll be working:
between M42 junctions 3 and 3a from 4 May to 27 May
between M42 junction 3a and M40 junction 16 from 1 June to 17 June
between M42 junctions 3a and 4 from 18 June to 23 July
What are we doing?
We'll carry out a number of different surveys on both carriageways. These will include drilling carriageway core samples, excavating small trial holes and ecology inspections.
We'll work overnight, when the road is at its quietest.
How will the survey work affect motorists?
To safely carry out the surveys we'll need to close some lanes, in 4km sections at a time, but will keep one lane open on each carriageway while we work (Monday to Saturday between 9pm and 6am). We'll take a 'traffic count' before we close the lanes and if the traffic levels are too high, we'll delay the work until they reduce.
All lanes will be open as usual during the daytime.
We'll also need to close the following slip roads overnight:
M40 to M42 northbound link road from 14 June to 25 June
M42 junction 3a to M42 northbound link road from 28 June to 25 July
M42 to M40 southbound link road from 12 July to 20 July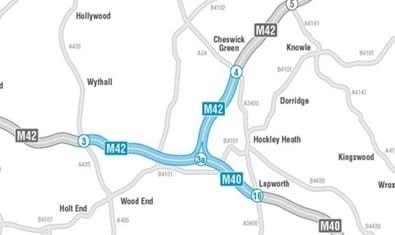 We'll put in place clearly signed diversion routes to the next junction when the slip roads are closed.
We apologise for any inconvenience this work may cause and advise everyone travelling through the area to allow extra time for journeys.
Please note these dates and times may be subject to change due to poor weather or for operational reasons.
Contact Us
For information about the surveys, please contact our customer contact centre on 0300 123 5000 or email: info@highwaysengland.co.uk
If you would like more information about the scheme including planned closure details, please visit our webpage:
www.highwaysengland.co.uk/our-work/west-midlands/m40-m42-interchange-smart-motorway/
Thanks,
Veron
 Veron Graham MCIPR
Stakeholder Manager – M40-M42 Interchange
SMP Alliance
Survey Site Compound, The Chestnuts, Beoley Ln, Beoley, Redditch, B98 9DP
Mobile: 07881 847 401
Working in partnership with Highways England 
Highways England Customer Service Contact Centre
0300 123 5000