JPC MEETING WITH WARWICKSHIRE POLICE, WCC & SDC
PROJECT: PARKING MANAGEMENT ON HIGH STREET
Initiated by Warwickshire Police, the Chair and Clerk of the JPC, met today with representatives of the police, WCC and SDC, in order to investigate possible solutions in preventing further road accidents outside the Co-op and One Stop stores.
Several potential ideas were tabled and discussed, amongst them, the construction of road build-outs, coupled with zig-zag restrictive road markings, high visibility warning signs and loading/unloading restriction notices.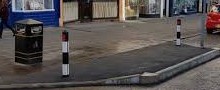 Notes from today's meeting, will be tabled at the next JPCO Meeting and if they meet with the Council's criteria in solving this ongoing problem, a motion to obtain a WCC Feasibility Report, will be proposed.
STATION ROAD
The JPC raised the subject of increased parking on Station Road, due to WMR charges for using the station car park. The WCC stated that provision of double yellow lines along the section of road adjacent to the station car park, will be addressed as part of their 2020 financial year appraisal. No estimate of timescales were forthcoming for the work to be carried out. The JPC will continue to update residents as progress and events occur.
The JPC and SDC will approach West Midland Railways, questioning whether the reduced occupancy on the car park is actually returning worthwhile revenue, or would be, in the medium and longer term. Further reports will follow.
Ray Evans – Chairman JPC