BEAUDESERT & HENLEY IN ARDEN
Our quintessentially English market town owes its origins to an Anglo Saxon warrior known as Wagene, who established a settlement south of Henley known now as Wootton Wawen. His cosy little homestead was  disrupted somewhat by the Normans who landed in 1066 and arrived in Henley about twenty years later. The first thing they did was to build a castle on a promontory east of the River Alne which they named Beaudesert designed to keep an elevated eye on the locals.
If you need more comprehensive and factual background please take the trouble to go along to the Heritage Centre where the 'jewels' of the town can be found.
https://www.heritagehenley.org.uk/ 
One good thing about Norman domination and rule was they offered the town a charter to run a market which would prove to be a success for nearly 800 years. Though the market closed around the end of the last millennium, given over to much needed housing, the town remains a magnet for visitors from all over the UK. Always the 'poor sister' to Stratford upon Avon, this plucky little hamlet can boast some of the best hostelries, catering establishments, pubs and bespoke shops to titillate and cosset visitors and residents alike.
For further information visit
The picture below [local smithies c.1914] sums Henley up, rural, self sufficient, wholesome, hard working and a haven for young and old alike. It is a springboard for Birmingham, Stratford, Warwick and Leamington and close to all major motorways, airports and exhibition centres.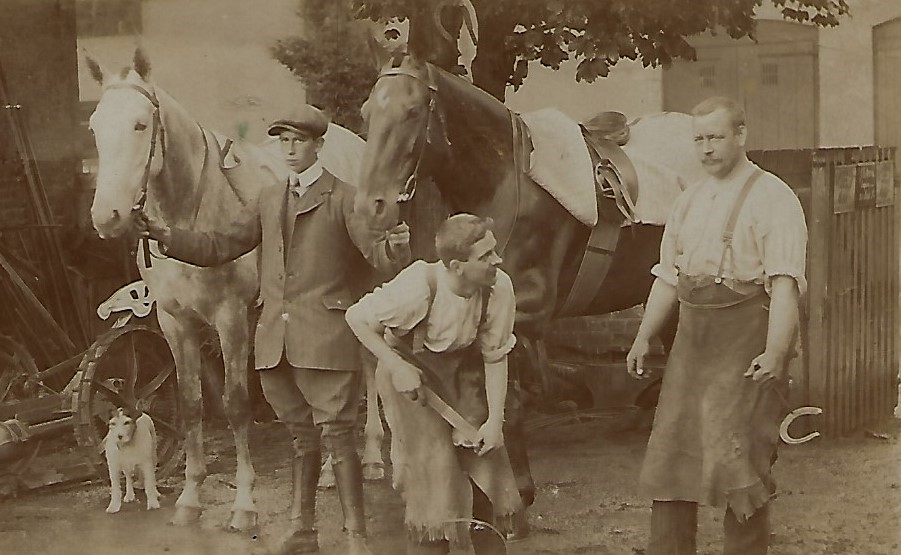 If you are planning to visit our town, please contact the Clerk if you require any additional assistance.